Sales and Coupons
Welcome! I am a central Florida photography and you've found my Sales and coupon page! You've found it, my secret page! Here's where you need to come to check out savings that we put out. These are our basic offers, to get better, even BETTER discounts subscribe below with your email Normally we will tweet, or email you when we do post a sale here! These sales will be our common ones. To gain access to the better sales and exclusive offers from Mark Dickinson Photography please fill out the email in the box above or below and click subscribe.

USB and Digital Download sale!!! With an elegant slideshow for a keepsake! You have two options for the sale that expires July 1st. You can upgrade your wedding USB to a larger size and we will include all of your Engagement/GTKY session photos on there, plus create a slideshow and send to you via youtube!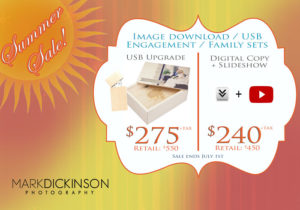 Summer Sale!:
Missed out on ordering prints? Download or get a USB upgrade for your engagement/GTKY or Family session set!
Expires July 1st 2016
Terms: Limited to Engagement/Family/Maternity or any lifestyle portrait package
Coupon Code: May2016
Expires June 2016
Terms: Can be used on any gallery on mdpstore.com
LIFESTYLE PORTRAIT SALE!
$75.00 OFF any lifestyle portrait photoshoot like maternity, engagement, family, or individual sessions. Call 386-316-0040 to book your date! Terms: not applicable for commercial or existing sale!

That's right, I'm offering a special package that you pay one flat fee  ($1500.00) and get photos for life! one photo session every 12 months!*  To find out more information please visit here! This gives you access to exclusive sales, and the ability to add a bumper session for $150.00! prints and Downloads are additional a $6500.00 savings! See more terms and conditions here.

Buy a gift car for $50.00 get $55.00 value!
pleas call or email for this deal! Subscribe to our email for even better flash deals and savings!
Comments
comments